#MakeitinMarch19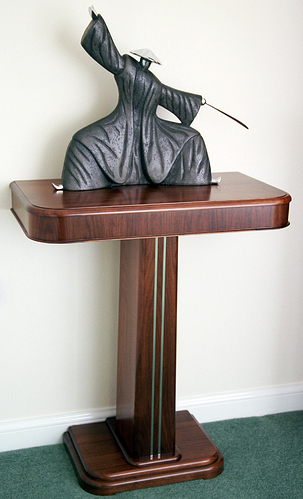 Hi all,
Finished at last, a Console Table in American Black Walnut.
I designed and made this piece of furniture to fill an empty space in my hallway. It's my interpretation of Art Deco, combining wood and polished stainless steel inlays to the column. The project being made easier by the accuracy of my Axminster TSCE-12R Table Saw and drill press.
Apart from the top bearers and corner blocks which were made from Canadian Maple offcuts, the table is made entirely from solid Walnut. The column is hollow of course, being constructed from four pieces of Walnut. A large block of Maple was then fitted in both ends to enable it to be attached to the top and base.
After applying a Walnut stain and thixotropic grain filler, I gave it a sprayed finish with a semi-matt pre-cat lacquer.