Hi,
I've started making rings (for fingers!) as a hobby.
I have an Axminster 240 hobby lathe.
I can sculpt the outside of the rings easily enough by just mounting them on a tapered spindle.
What I need to be able to do it grip them externally so that I can work on the inside of the ring properly.
At the moment I'm just stuck with whatever diameter forstner bit I used to make the initial hole.
Every video I see on youtube shows people using (I think) Internal Safety Jaws to clamp around the ring so they can get at the inside.
And now for the question… I can find no details on this site, or anywhere else, about:
what size chuck / jaws I would need.
how wide I can open the mentioned jaws on a SK80 / SK100 chuck
if this is the right approach.
Any ideas?
I just need a secure way to hold a ring externally that will work with ring diameters up to around 3cm. Even a DIY approach is fine, so long as I can get the ring off and back on reliably centered.
The picture below is my ideal situation (but holding a wooden ring of course)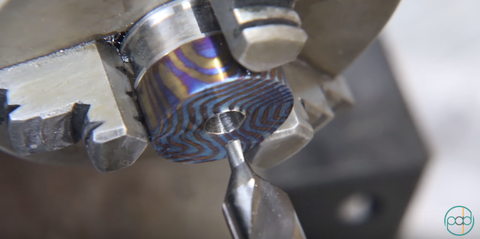 I think the SK80 has 12mm of travel on the mounting points, but that would only get me up to a 24mm object. Can I actually open the jaws slightly further safely?