The ribbed, cast aluminium table top of the Kity 1619 Table saw makes it difficult to clamp a simple featherboard directly to the table.
Using a spare mitre gauge I acquired, here is a simple mechanism for an adjustable featherboard that slides into place and clamps firmly to the tables T-slot with a single knob.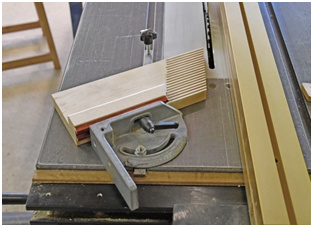 The featherboard is connected directly to the mitre gauge via a short length of UJK T-slot rail and is locked with a corresponding T-bolt & locking lever. The mitre gauges' handle is replaced with a nut & washer. Once the featherboard angle is set the nut is tightened an does not need to be reset.
This jig provides a very rapid, secure & safe featherboard for this or any other machine of this type
Hope it helps.