The ribbed, cast iron table top of the Startrite 301E bandsaw makes it difficult to clamp a simple featherboard directly to the table.
The photo shows how the main supporting body sits in the (non-T) mitre gauge slot and is toggle clamped to the tables edge fixing it securely. The adjustable featherboard itself is attached using a short length of UJK T-slot rail and is locked with a corresponding T-bolt & locking lever.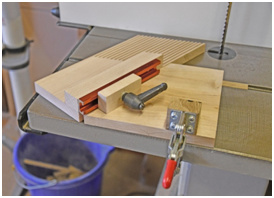 Unlike a table saw, it is occasionally necessary to re-adjust the fence on a bandsaw to allow for blade drift. To this end the oak mitre rail is only secured with one central screw allowing the resetting of the featherboard's leading edge
This jig provides a very rapid, secure & safe featherboard for this or any other machine of this type
Hope it helps.