I needed a work bench that I could slip into the back of my van when working on site. I came up with this that fits on top of a couple of wooden trestles. It's a bit shy of a full sheet of board but it's the biggest I could get in my van and slide between the seats. I drilled a grid of 20mm holes in it to take B&D workmate dogs which turns out to be the same size as the UJK system but when I made it they hadn't brought the Guide System out. I fitted a couple of stiffeners with piano hinges so they would fold flat when the table top is on its edge and couple of jockey wheels so I can easily man handle it and slide it into the back of my van.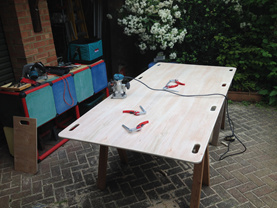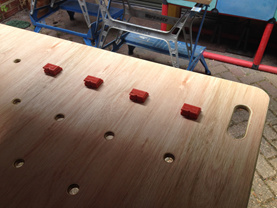 I fitted M6 threaded inserts into the ends of my trestles. This allowed me to secure the top to the trestle using M6 male knobs from Axinster Tools.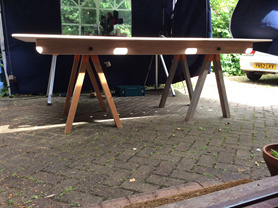 Table folded flat.
Table slips between the middle row of seats.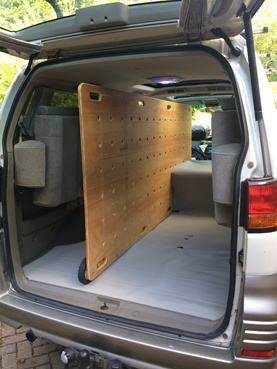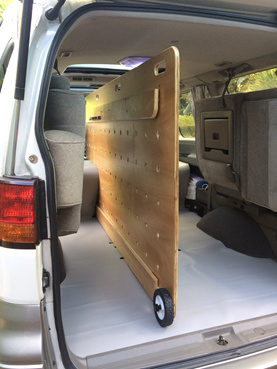 I then wanted a way of doing some repeatable cuts with my plunge saw and track guide so I got some 20mm diameter aluminium stock off eBay in 300mm lengths. I then drilled and tapped both ends and fitted Tee bolts in one end and fitted the head of the bolt into the Tee slot on the underside of the guide. With a quick twist the post is locked onto the guide. This allows me to lift the guide up and down and slide under any new material that needs cutting and with a stop clamped at the other end and with B&D dogs along the side I can do repeatable 90° cuts at a fixed length. Because I set the depth of cut just so it cuts into the surface of the work top I don't get any breakout on the underside of my work piece and also subsequent cuts will always be in exactly the same place.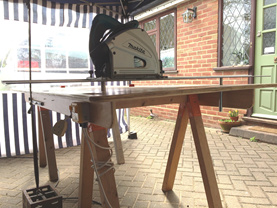 When the UJK Parf Guide System came out I made a smaller version of my work top one that I could fit to the side of my van and support across a couple of workmates. I use a couple of the longer Veritas Parf dogs to fix the top into one of the movable jaws of the workmate and just resting on top of the other workmate. This allows me still use the jaws of both workmates.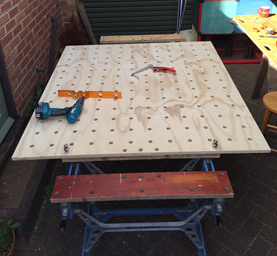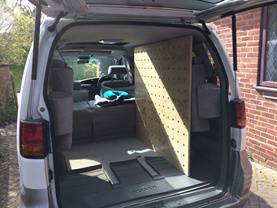 One day I'll make a new large work top using the UJK Parf Guide System. I'm very impressed with the accuracy of the drilled holes.