An interesting article has just appeared on 'The Knowledge', where the Woodcut MAX3 Bowlsaver has been put through it's paces. I bought the original version a few weeks ago when it was heavily discounted, but I haven't had a chance to use it yet.
In the article the operator doesn't appear to have turned a tenon on the core prior to removing it from the blank, which is an essential part of the process and means that he may encounter some difficulty in holding it the chuck later on.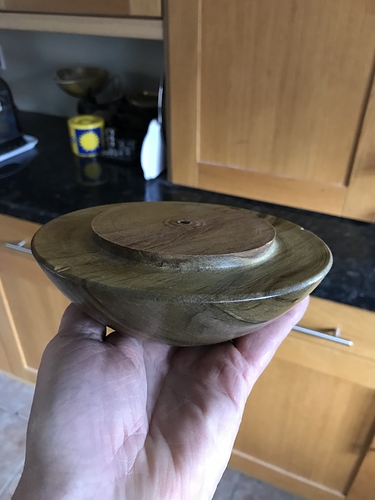 This is a core in Ancient or Swamp Kauri which is nearly 4000 years old and you can clearly see the tenon that Rick turned before it was removed from the blank.
Max was also turning a green Ash blank and used 'C' jaws for the job. Clearly they were adequate in this case, but had the blank been dry and much harder (as in the pic) it may have completely broken out of the chuck. I was advised to use the largest tenon possible to grip the blank; the one shown in the pic is 100mm.
The core shown was polished and dispatched from NZ as a 'paperweight' as it's now illegal to export ancient Kauri in log or plank form (the Chinese are to blame here) unless it's been finished into a recognisable item.