Those of us who are lucky enough to own a BS11 bandsaw (508475) will appreciate just how good a machine it is; however it's not without it's niggly faults, one of which I discovered the other day. Part of my routine maintenance is to clean out and lubricate the blade guides, which tend to get rapidly choked with saw dust and small off cuts.
To my dismay, I found that the lower inboard bearing is perilously close to the chassis so that the slightest amount of sawdust will cause it to seize and fail to rotate. When I checked it out, I found that it was impossible to even fit a very slim feeler gauge 'twixt the bearing and the framework of the machine. Not good…
I stripped out the bearing assembly and drilled a 10mm hole in the chassis, using small drill increments. This is difficult to do as the drill will be at an angle, so I advise caution. Also make sure that you PUT A SCRAP OF WASTE WOOD between the tyre and the chassis!
Once the drilling has been accomplished, I used a Proxxon mini-drill and conical grinder to enlarge the hole until there was plenty of clearance round the bearing.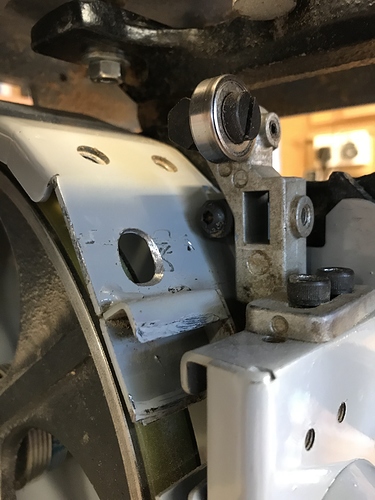 Showing the completed and ground out hole.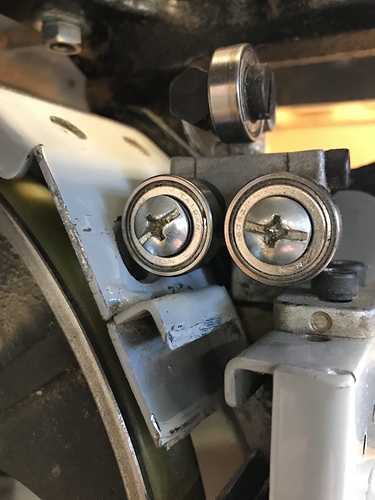 With the lower bearings in place…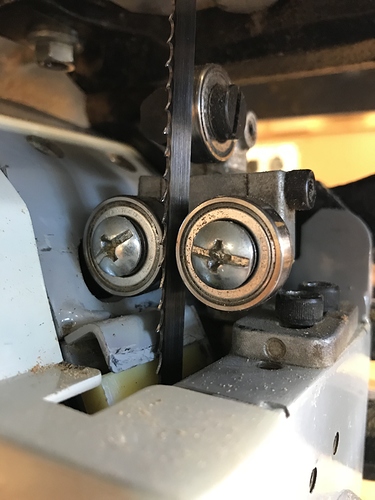 …and fully set up correctly with a DG blade (505222). Note that the lower blade guard has been removed. If you have one of these bandsaws, this is very useful little mod that could save a lot of grief later on as well as coughing up some hard earned spondulicks for a seized bearing.